They're the youngest sisters from Keeping up with the Kardashians, reality show that made them popular on E! and this next March they are on the cover of Teen Vogue. As always I give my opinion about the editorials and everything I write and so I have to say that these girls are really crazy in a good way! I love to watch them in the show, they're always so funny! We also have to say that they're starting to be the "stars" of the show among their KK sisters' now that they're growing up! Let's see how everything is gonna be! =)
In this amazing picture above Kendall is wearing a Blumarine top and Kylie a Blumarine dress and a Girlprops sunglasses! So cute, right?? I loved the editorial so much, they look both stunning and colorful!
On the cover we can read "Kendall & Kylie Jenner: Kardashians in Training" with them modeling, launching their first jewerly line and thinking about their own spin-off show! Interesting? Maybe! They can be entering into a new way to be like their older sisters, having a huge bank account!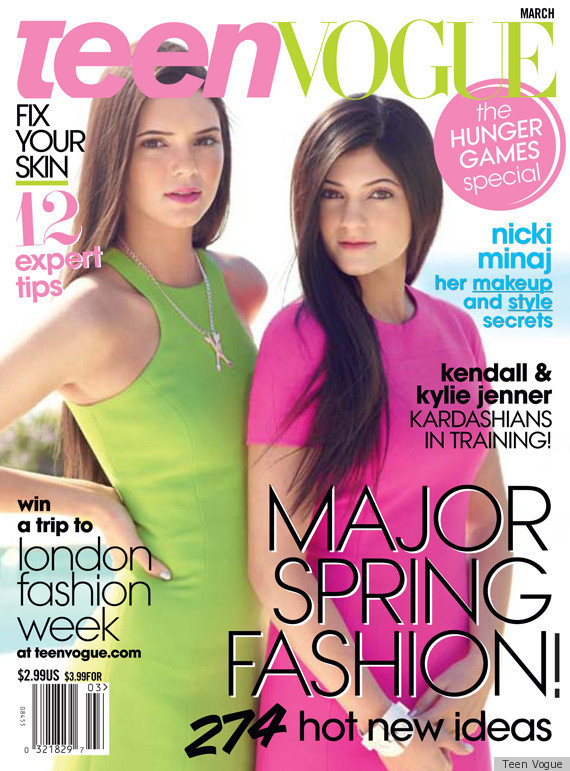 In the exclusive interview with the magazine, the Jenner girls talk about handling the paparazzi and their personal sense of style. Here are some highlights from he enterview with the Jenner sisters!
Kendall on being a cheerleader:
"They call me Cheer Mom because when we make those big banners for football games, I'm the one to say, 'Do this, do that; use this color, use that color.' Not, like, in a mean way. But I just like things in order. I'm a perfectionist."
Kylie on her shopping habit:
"I feel like a shopaholic. When I come home with a new bag of stuff, oh my god, it feels so good."
Kendall on her personal style:
"I like to be comfortable and casual, I'm more laid-back than Kylie. In school, I'll wear jeans, a sweatshirt, and Uggs, and she'll wear, like, this whole ensemble that she put together the night before."
Kendall on having a big family:
"I love having so many people you can turn to. You always have someone there for you."
Peter Som dresses