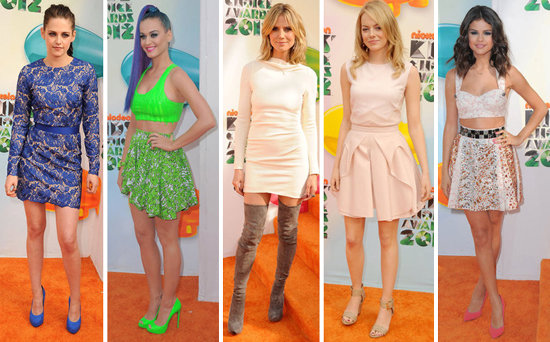 Ontem realizaram-se os Kid's Choice Awards e o melhor da "orange" carpet está toda aqui!
Com a Primavera lá fora (não por Portugal! - ou pelo menos Lisboa), as cores alegres e frescas chegaram para tornar a cerimónia ainda mais divertida e com um espírito no seu auge!
Para as melhores ladies que se apresentaram na passadeira "cor-de-laranja" escolhi a Selena Gomez com saia e top Dolce&Gabbana e Cesare Paciotti heels, Emma Stone com top e saia Antonio Berardi, mala Fendi e Alejandro Ingelmo heels e o vestidinho azul super vivo da Miranda Cosgrove com botins Stella McCartney.
Como todas as outras edições, os convidados e premiados são "revestidos" com a sua tão famosa tinta verde por mais que não queiram, possa ser mauzinho e possa estragar toda a vestimenta... O suspense neste festa não é então para quem é que leva o prémio para casa, mas sim quem vai levar com aquele balde de tinta verde em cima. Este ano as vítimas foram o Justin Bieber, Halle Berry, Will Smith, Taylor Lautner e mais alguns...
Last night were the Kid's Choice Awards 2012 in California and the best of the "orange carpet" are here!
Spring is out there and the bright and freshy colors just arrive to make the party even better and the spirit even happier!
For the best dressed are Selena Gomez in Dolce&Gabbana top and skirt with Cesare Paciotti shoes, Emma Stone in Antonio Berardi top and skirt, Alejandro Ingelmo shoes, a Fendi bag, and Irene Neuwirth jewelry and also loved the blues on the ceremony, Miranda Cosgrove.
As all of the last editions, celebrities got slimed as much as that could be really bad and also ruin the outfit... The real suspense is not who will take home the awards, but it's when and on whom the slime will spill. This year the main victims were Justin Bieber, Hally Berry, Will Smith, Taylor Lautner and so on...
Which outfit is your favorite?