Yesterday in the middle of the afternoon I had an amazing new by being nominated for Blogger of the Week by Portuguese Fashion Bloggers!! I got really thrilled and amazed and happy for such an honor! It was definitely one of the best days of my life lately! The blog had an amazing increase of views and it's really good to see your work being recognized and praised for this community!
Thank you so much to all those who have been supporting me and of course to you that are reading and following me everyday in every post making me even more inspired, motivated and able to follow and continue my dreams, what I love the most and what I do believe being just who I am!
But in this story I have to tell you a little secret... When I suddendly saw a huge increase on my views in just a minute I thought I had some virus on my computer or maybe on the blog! I don't know! I kinda freaked out and got a little scared by not knowing what was that! Crazy! I know! =)
So, for today's outfit I have to show you a very confortable look for work but also formal and elegant which I like to wear very often by wearing a stripe t-shirt very light, some dark skinny jeans and to accessorize it I choose my nude flats and my favorite light blue handbag to contrast the whole outfit!
Hope you like the pictures and wish you an amazing day!!
Ontem a meio da tarde recebi uma óptima notícia ao ser nomeada para Blogger da Semana pelos
Portuguese Fashion Bloggers
!! Fiquei super feliz, emocionada e maravilhada pela grande honra!! Foi sem dúvida um dos melhores dias da minha vida ultimamente! Já há muito tempo que precisava de notícias tão boas! O blogue teve um aumento incrível de visitas e é super bom de ver o nosso trabalho a ser reconhecido e elogiado por esta comunidade!
Um muito obrigada a todos aqueles que me têm apoiado e claro a vocês que estão a ler e a acompanhar o blogue todos os dias e em todos os posts que tenho publicado dando-me ainda mais inspiração, motivação e claro, ser capaz de continuar a seguir aquilo em que acredito, os meus sonhos e o que mais gosto de fazer, sendo apenas quem sou!
Mas no meio desta história tenho que vos contar um pequeno segredo... quando de repente vi um aumento súbito nas visitas do blogue em apenas um minuto pensei que o computador tinha apanhado algum vírus ou o próprio blogue... Nem sei! Só sei que fiquei um bocado assustada, sem saber o que se estava a passar realmente! Crazy! I know! =)
Por isso, para o outfit de hoje tenho para vos mostrar mais um look super confortável para trabalhar, mas que também pode ser formal e elegante com os acessórios que lhes juntamos e que eu gosto muito de usar! Uma t-shirt às riscas muito levezinha - perfeita para o verão! -, umas skinny jeans escuras juntando-lhe as minhas sabrinas nude e uma das minhas malas preferidas com um azul super verão para contrastar todo o look!
Espero que gostem das fotografias!! Tenham um óptimo dia!!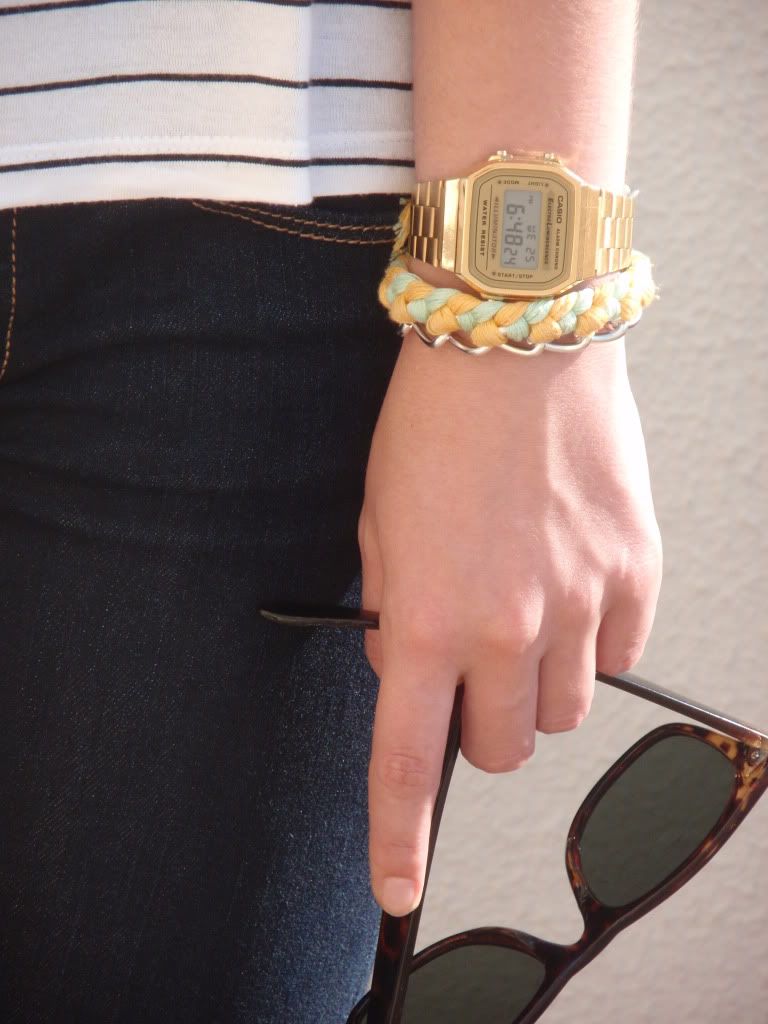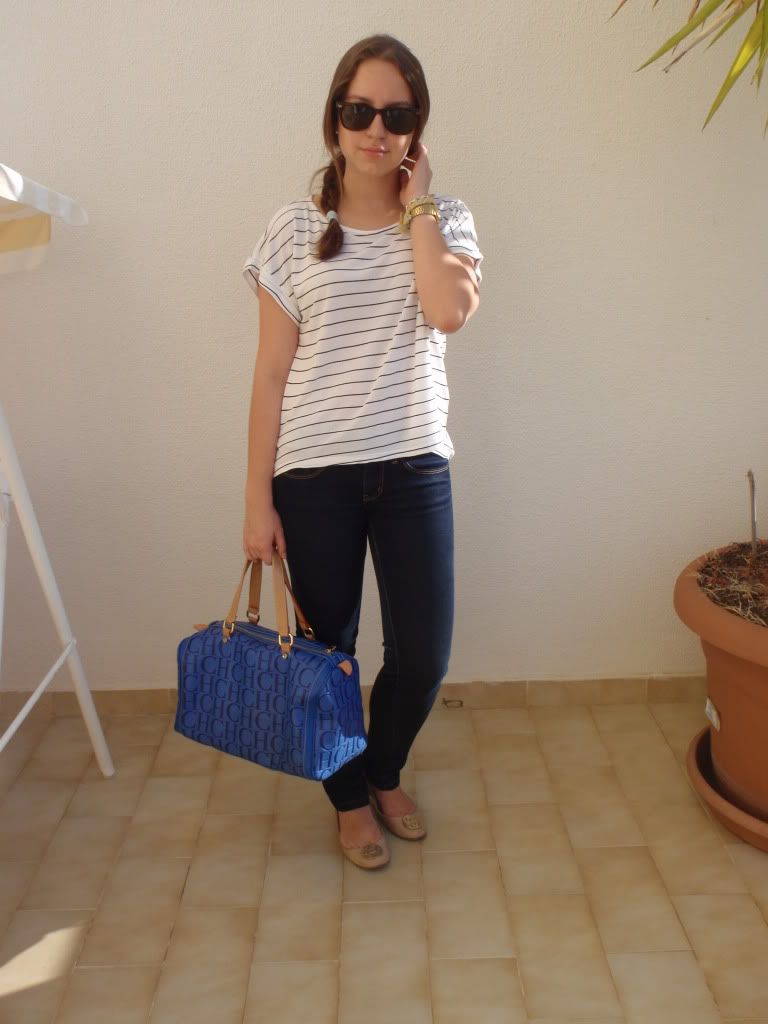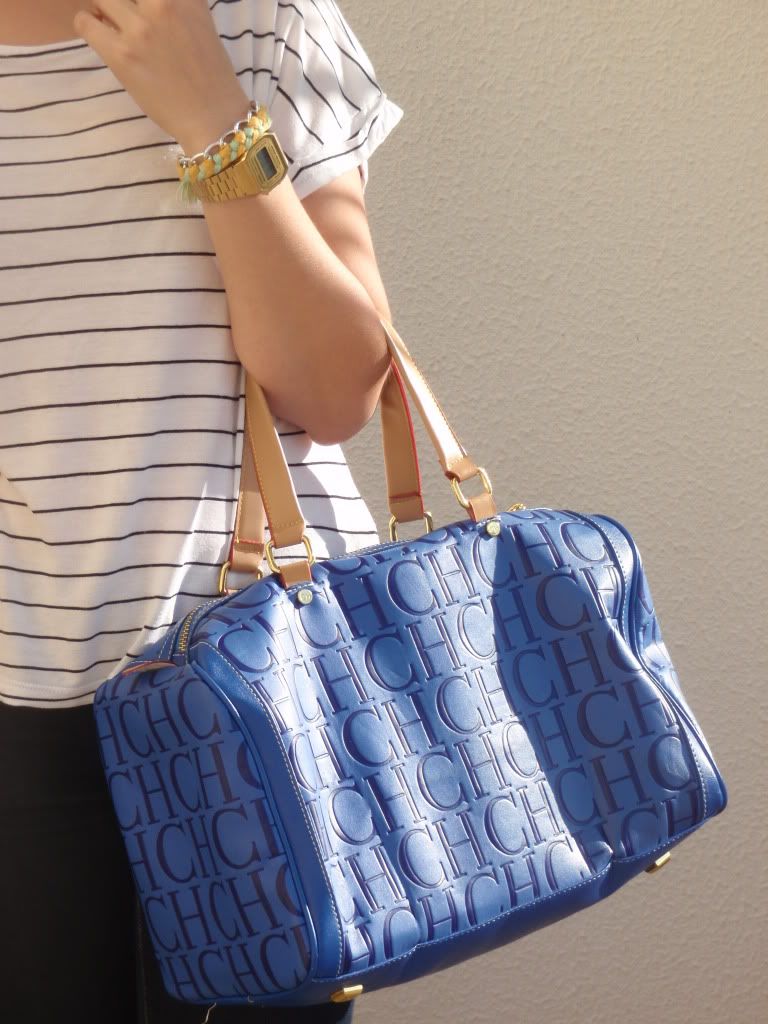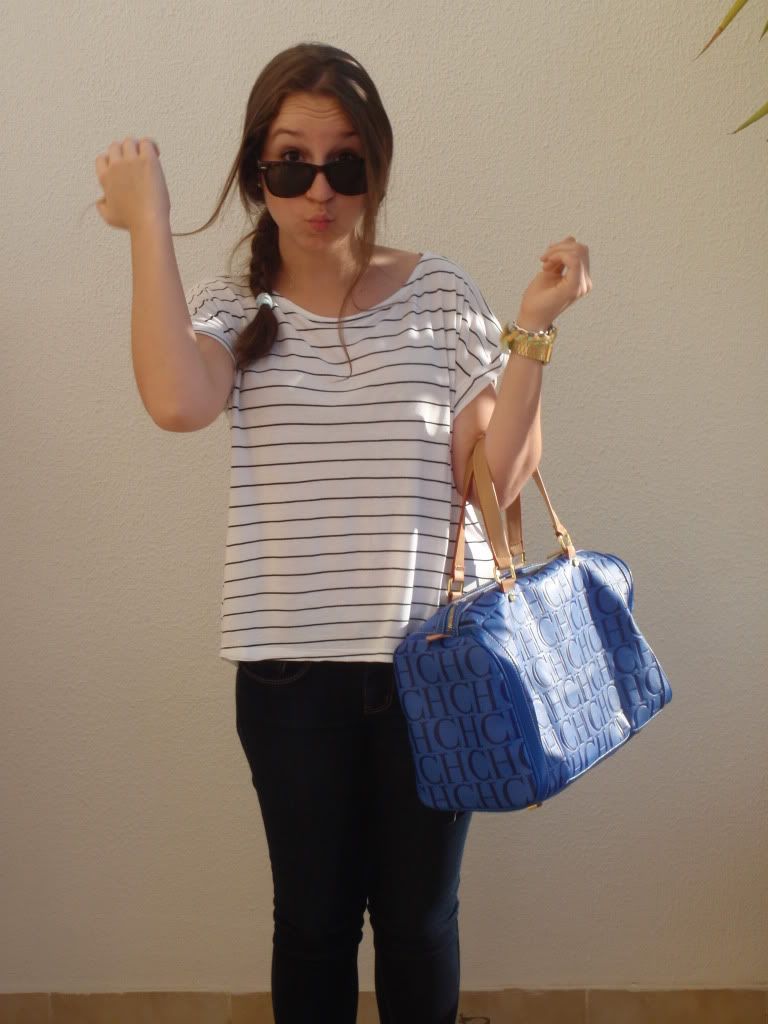 While listening to

Owl City & Carly Rae Jepsen - Good Tim

e ! Loving it!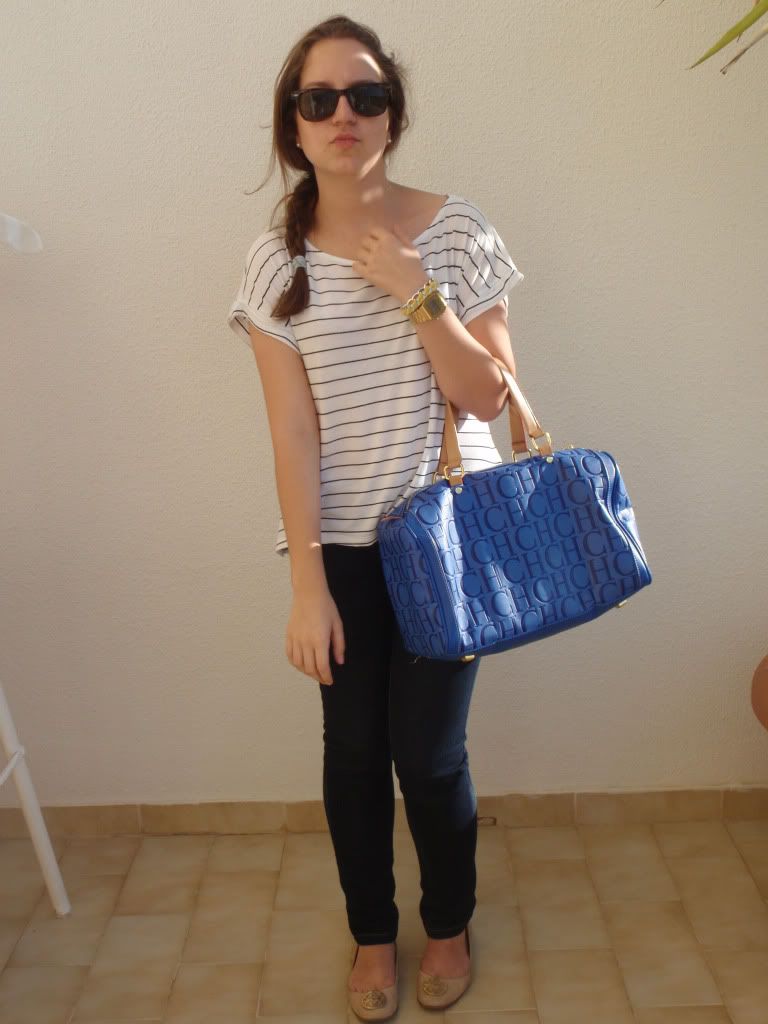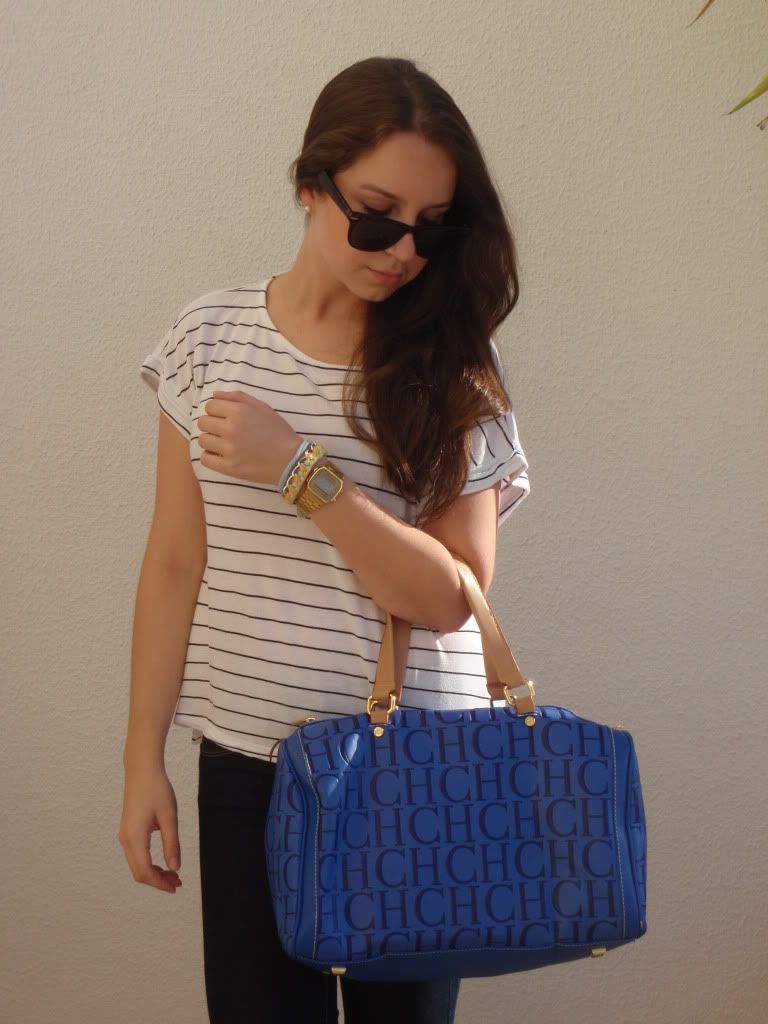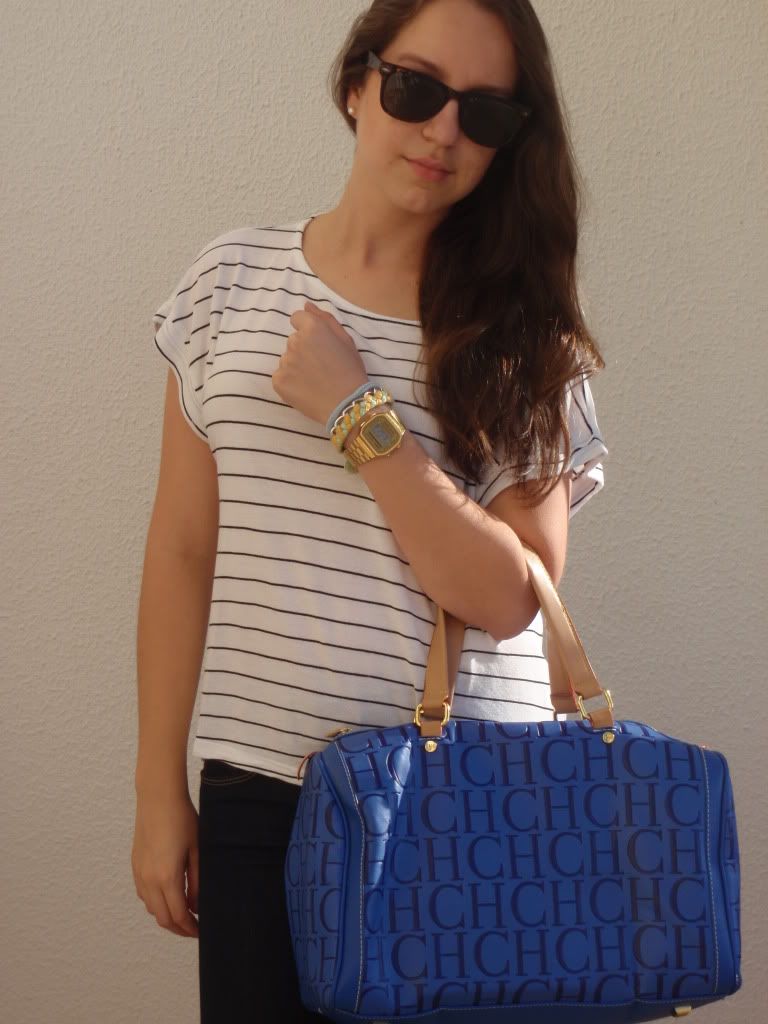 T-shirt: Oysho
Skinny Jeans: American Eagle
Flats: Aldo
Handbag: CH
Bracelet: MySweetPearls


Can you see my happiness??
Love,
I