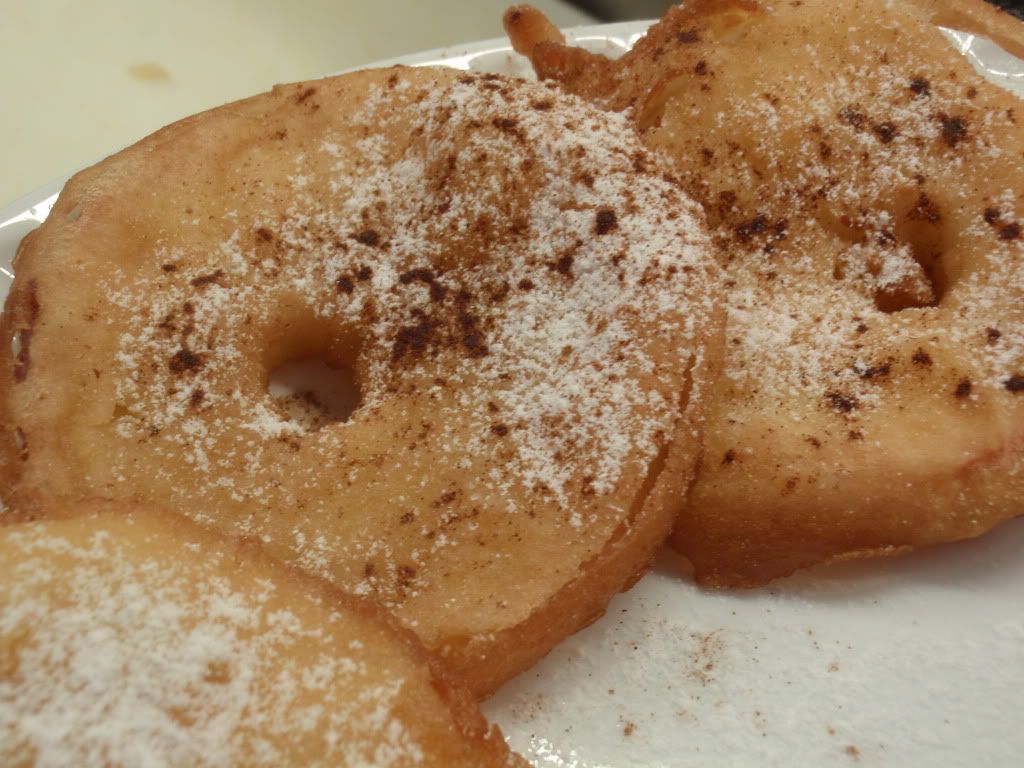 Today I have a new recipe for you!!
So schedule tomorrow cause you have to shop what you don't have at home to bake this amazing recipe!
I found this recipe on Pinterest and all I have to say is that's delicious!! It's a really easy one to do and it also has a plus - it's healthy, good for diabetics! (tell me if I'm wrong)
In my place we ate it in just two meals for dessert. You have to try it!
Hoje tenho uma nova receita para poderem cozinhar este fim-de-semana!! Por isso, preparem-se que têm o dia de amanhã para fazerem as comprinhas caso não tenham algum destes ingredientes em casa!
Encontrei esta receita no Pinterest e tenho que vos revelar que isto é delicioso!! É super fácil de fazer e tem um ponto positivo - ao que parece - é saudável e bom para quem tem diabetes! (Corrijam-me se estiver enganada.)
Cá por casa esta maravilha desapareceu num instante. Bastaram duas sobremesas de refeições para acabarem. Garanto-vos que têm que experimentar!
E aqui está a receita: /
Here's the recipe:
Ingredientes:/
Ingredients:
- 2 maçãs médias /
medium apples
- 2/3 chávenas de farinha /
cup of all- purpose or wheat flour
- 1 colher de sopa de açúcar em pó (deixem um extra para o fim) /
tablespoon of powdered sugar (plus extra for sprinkling on top)
- 1/2 colher de chá de raspas de casca de limão /
teaspoon finely shredded lemon peel
- 1/4 colher de chá de fermento /
teaspoon baking powder
- 1/2 chávena de leite /
cup milk
- 1 colher de chá de óleo /
teaspoon of shortening or oil for deep frying
Como fazer : /
How to do:
- Retire o meio das maçãs (caroços) e corte às rodelas. Numa taça média junte a farinha, 1 colher de açúcar em pó, a raspa da casca de limão e o fermento.
- Numa outra taça junte o ovo, o leite e 1 colher de chá de óleo e mexa. Junte a esta mistura a outra mistura da farinha e misture tudo.
- Mergulhe as rodelas das maçãs na mistura obtida. Retire o excesso. Frite-as, 3 de cada vez em óleo quente durante cerca de 2 minutos cada lado até ficarem douradas. Escorra-as em papel absorvente e polvilhe com açúcar em pó.
- Core apples and cut into rings. In a medium bowl combine flour, 1 tablespoon of powdered sugar, lemon peel and baking powder.
- In a separate bowl combine egg, milk and 1 teaspoon of cooking oil. Add the egg mixture to flour mixture and blend together.
- Dip apples rings into batter. Drain off excess. Fry fritters, 3 at a time in a hot pan with shorting or frying oil. Fry for about 2 minutes each side, until golden brown. Drain on paper towels and sprinkle with powdered sugar.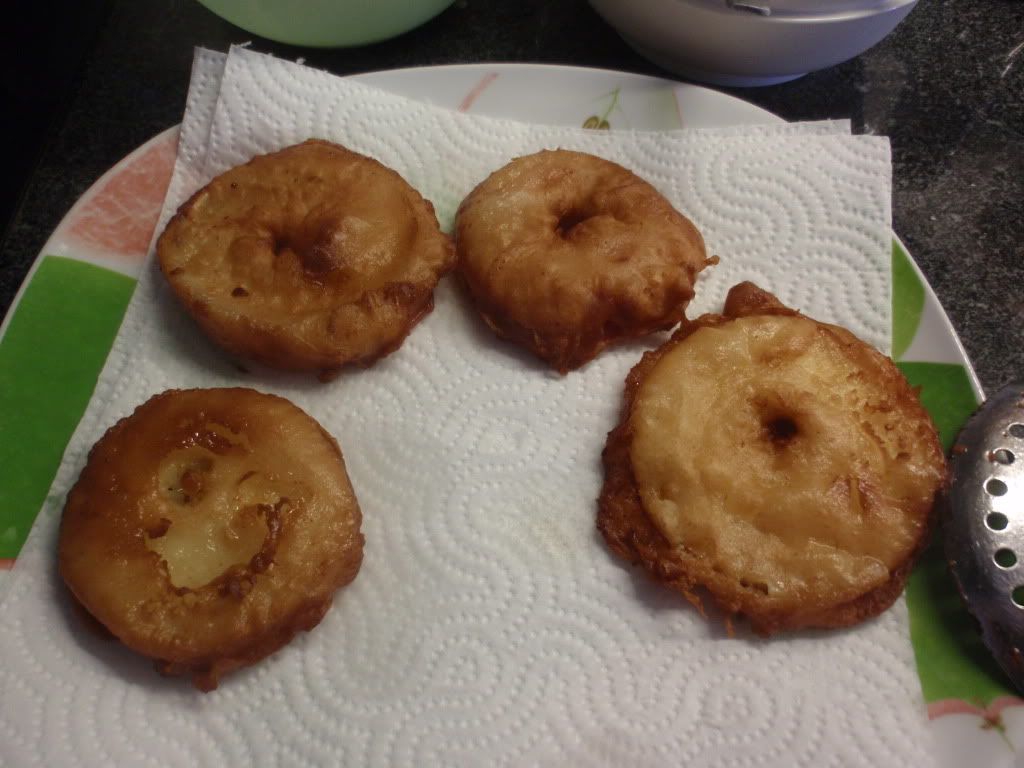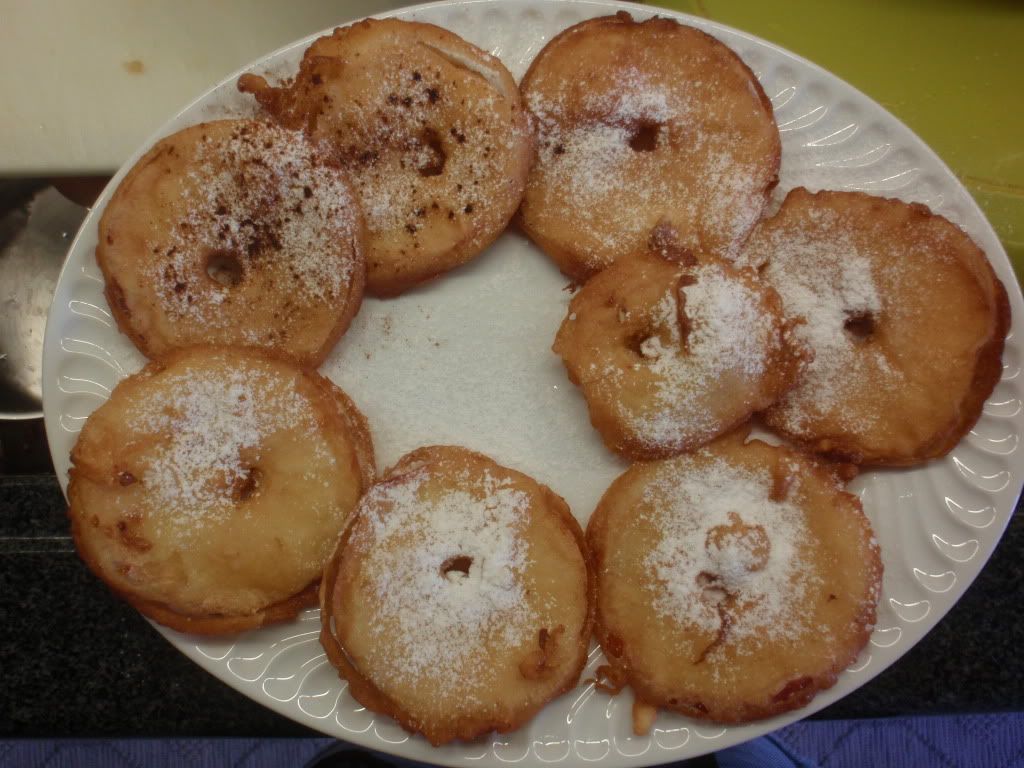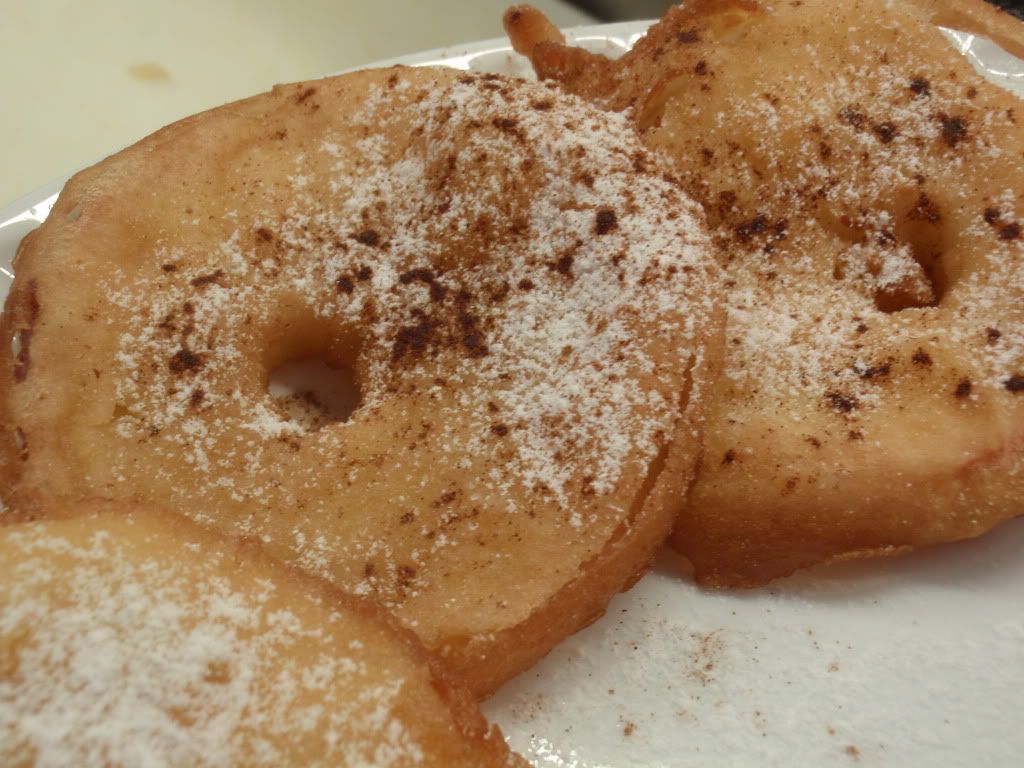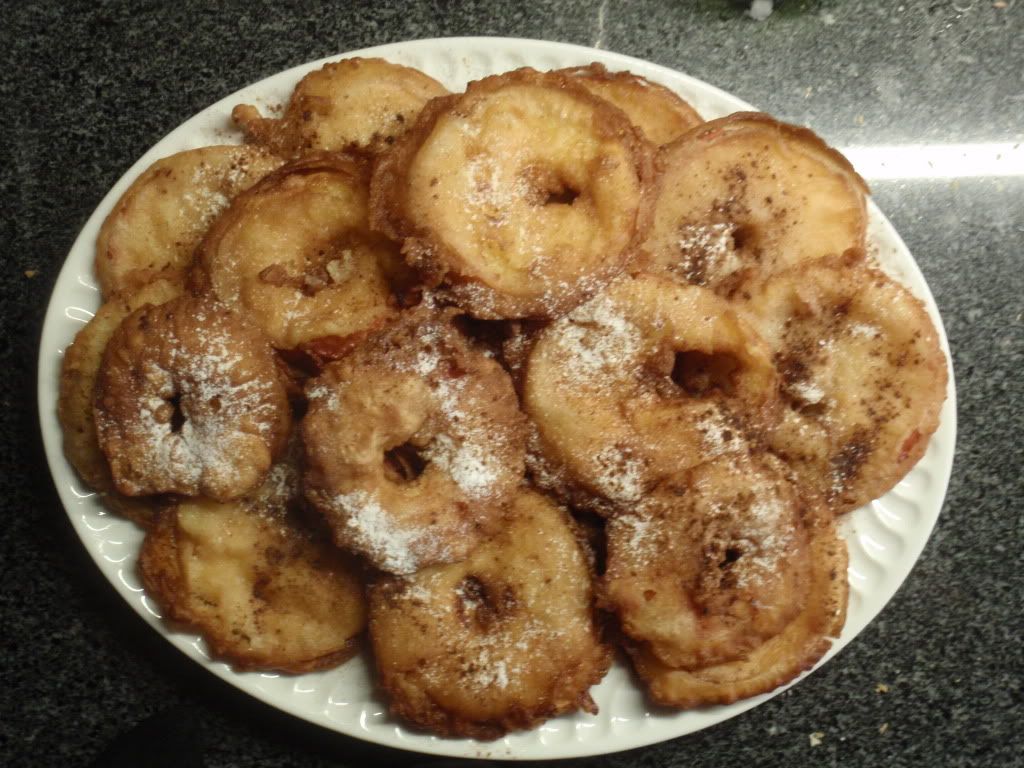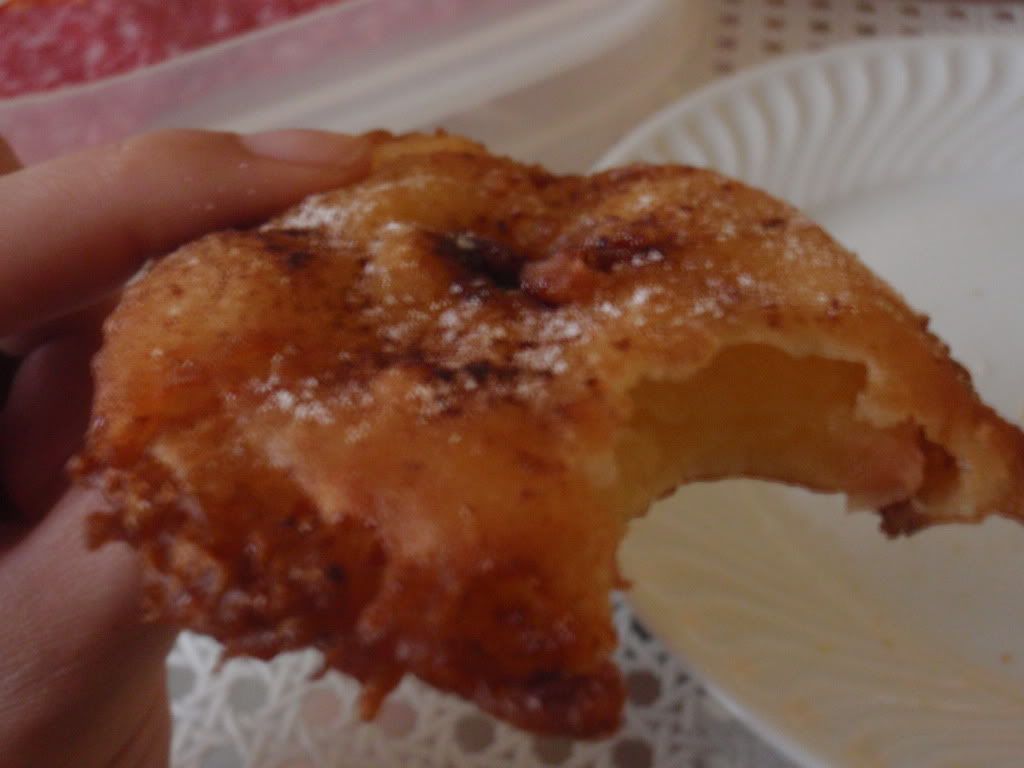 Et voilá!
So good!! Also good for a snack!
Mesmo bom!! Até para um snack quando chegamos a casa e nos apetece comer alguma coisa!
If you'll try it, let me know how was it and send me some pictures! Hope you like it!
Se experimentarem depois quero saber como ficou! Enviem-me fotografias. Espero que gostem!
Love,
I