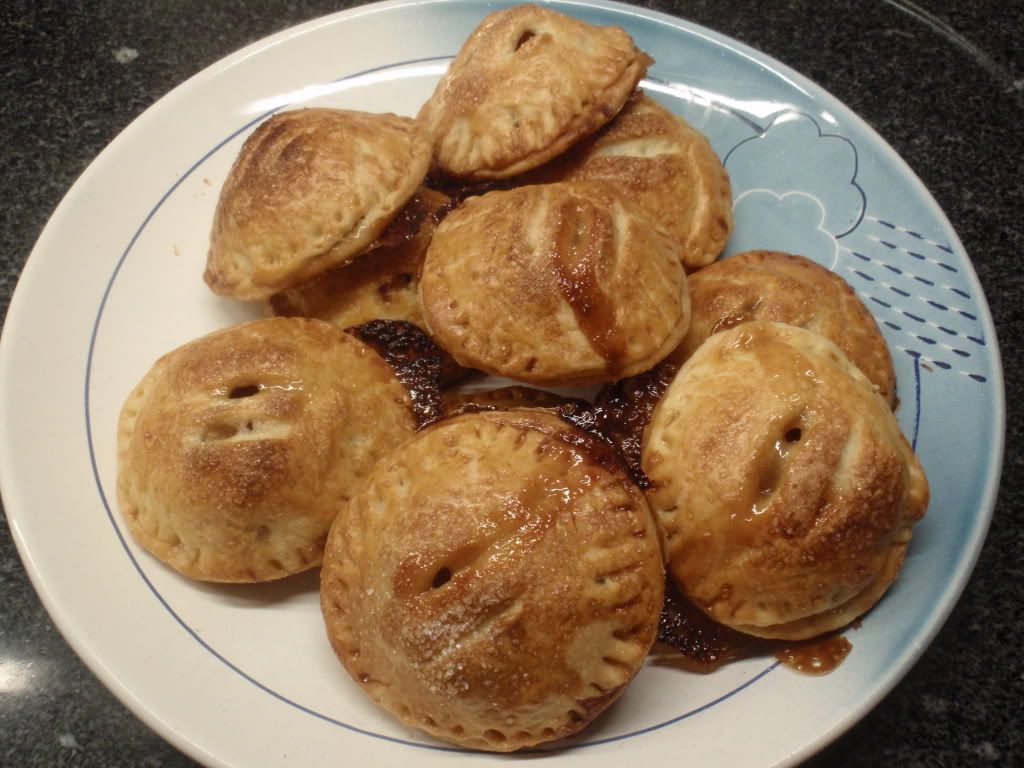 When this season arrives, I love everything that involves apple, cinnamon, pumpkin and now even more when it involves salt and caramel! It's really delicious!




So a couple of weeks ago I found this amazing recipe

here

and so tried to do it on a Sunday afternoon. Let me tell you it was an amazing idea and everybody but trully every single person loved it! At first we always think something that mixes salt and caramel will not be very good but you're wrong if you're thinking that! Then you always ask for more!




Today, I'm sharing with you this amazing recipe that maybe looks difficult to do but it's very easy, in a little bit more than an hour it's ready to taste! Yummi!

Quando chega esta altura do ano, adoro tudo o que envolva maçãs, canela, abóbora e agora ainda mais quando envolve sal e caramelo! É que é mesmo bom!!




Há umas semanas atrás encontrei esta maravilhosa receita aqui e por isso, experimentei fazê-la num Domingo à tarde. Deixem-me que vos diga que foi uma excelente ideia e toda a gente, mas literalmente toda a gente que provou ADOROU! Ao princípio não há quem não fique reticente quanto à mistura do sal e do caramelo numa receita, mas estão errados, depois prova-se e pede-se por mais!




Com isto, hoje tenho para partilhar convosco esta receita que pode parecer complicada, mas é super fácil de fazer e demora não muito mais que uma hora para poderem provar! Yummi!

Note 1:

the original recipe says it makes 10 mini pies but I made 15 with the same inches. /

A receita original diz que faz 10 mini pies, mas eu consegui fazer 15 com as mesmas medidas.

Note 2: in this recipe, I'm giving you the american ingredients and also the portuguese ingredients.




Ingredients/

Ingredientes

: For the dough/

Para a massa

:

2 cups all-purpose flour/

2 chávenas de farinha normal (culinária)

1/2 teaspoon salt/

1/2 colher de chá de sal

1/2 teaspoon baking powder/

1/2 colher de chá de fermento

1 cup (2 sticks) cold unsalted butter, cut into cubes /

1 chávena de manteiga sem sal fria

1/2 cup cold sour cream/

1/2 chávena de créme fraîche (natas de culinária) frias

For the filling/

Para o recheio

:

2 cups small diced (peeled) apples/

2 chávenas de maçãs partidas em pequenos cubos = 2 maçãs

2 teaspoons fresh lemon juice/

2 colheres de chá de sumo de limão

1/2 teaspoon cinnamon/

1/2 colher de chá de canela

1/4 cup sugar/

1/4 chávena de açúcar

2 teaspoons all-purpose flour/

2 colheres de chá de farinha normal (culinária)

8 store-bought soft caramels/

8 caramelos macios

Large flake sea salt/

sal grosso

Egg wash (1 egg lightly whisked with 1 Tablespoon water)/

ovo batido com 1 colher de chá de água

Crystal sanding sugar (optional)/

açúcar granulado (opcional)




Step by step: /

Passo-a-passo

: Dough/ Massa:



Whisk together the flour, salt and baking powder in a large bowl./ Numa tigela, misture a farinha, sal e fermento.
Add the cubed butter to the bowl and use your fingers to work the butter into the flour until the mixture is the consistency of wet sand./ Junte a mateiga em cubos e use as mãos para misturar a mateiga com a mistura da farinha até esta ficar consistente, parecida com terra molhada.
Stir in the sour cream (the dough will be very wet), and then turn the dough out onto a well-floured work surface./ Juntar o créme fraîche (a massa vai ficar bem molhada) e deite a massa numa superfície previamente polvilhada com farinha.
Knead the dough a few times until it comes together, adding more flour, 1 teaspoon at a time, if the dough is too sticky to handle. Roll the dough into an 8x10-inch rectangle and dust both sides with flour before folding it into thirds as if you were folding a letter./ Amasse a massa algumas vezes até ficar consistente. Se se agarrar aos dedos, coloque 1 colher de chá de farinha de cada vez, até ficar pronta. Estenda a massa num rectângulo de 20x25 cm e deite farinha em ambos os lados antes de dobrá-la em três partes como se estivesse a dobrar uma carta.
Rotate the dough 90º and roll it out again into an 8x10-inch rectangle. Fold the dough again into thirds then wrap it securely in plastic wrap and refrigerate it for at least 30 minutes while you make the filling./ Rode a massa 90º e estenda a massa outra vez num rectângulo de 20x25 cm. Dobre a massa outra vez em três partes e embrulhe-a em papel transparente. Leve-a ao frigorífico durante pelo menos 30 minutos , enquanto faz o recheio.
Filling/ Recheio:
In a small bowl, combine the apples, lemon juice, cinnamon, sugar and flour, stirring until thoroughly mixed. Set aside./ Numa pequena tigela, junte as maçãs, o sumo de limão, a canela, o açúcar e a farinha e misture tudo até ficar bem envolvido. Deixe repousar.
Assemble the pies: Preheat the oven to 425ºF./ Passemos às tartes: Pré-aqueça o forno em 220ºC.
Remove the dough from the refrigerator and unfold it onto a well-floured surface, rolling it out to a 14x14-inch square./ Retire a massa do frigorífico e desembrulhe-a para uma superfície previamente polvilhada com farinha, estendendo-a num quadrado de 30 cm.
Using a 3-inch circular cookie cutter or cup, cut out as many circles as possible. Re-roll the scraps and continue cutting out circles until you run out of dough, ensuring you end up with an even number of circles./ Usando um copo com diâmetro de 7 cm, corte o máximo de circulos que conseguir. Junte todos os restos de massa, amasse e continue a fazer circulos até a massa acabar (não esquecer a acabar com um número par).
Place the dough circles on a parchment paper-lined cookie sheet. Spoon a small portion of the apple filling into the center of each circle, leaving enough of a border around the filling. Top the apple filling with a portion of the chopped caramels and a pinch of sea salt. Place a second dough circle atop each filled circle then use a fork to crimp the edges together, sealing each pie./ Coloque os circulos da massa numa forma com papel vegetal. Deite uma pequena porção da mistura da maçã no centro dos discos, deixando uma borda. em cima da maçã coloque o caramelo previamente cortado em pedaços e um bocadinho de sal grosso. Coloque o segundo circulo de massa por cima da mistura e sele com um garfo para fechar a tarte.
Brush each pie with the egg wash, and using a sharp knife, cut two or three vents on the top of each pie. Sprinkle the pies with crystal sanding sugar (optional)./ Pincele cada tarte com o ovo e usando uma faca afiada, faça 2 ou 3 cortes em cima de modo a que possa "ventilar". Deite nas tartes o açúcar granulado (opcional).
Bake the pies for about 15 minutes, or until they're golden brown./ Leva-as ao forno durante 15 minutos ou até ficarem douradas.
Remove the pies from the oven and allow them to rest for 10 minutes before serving. Repeat the filling and baking process with the remaining dough circles./ Retire as tartes do forno e deixe-as repousar durante 10 minutos antes de servir. Repita o processo até não ter mais circulos de massa.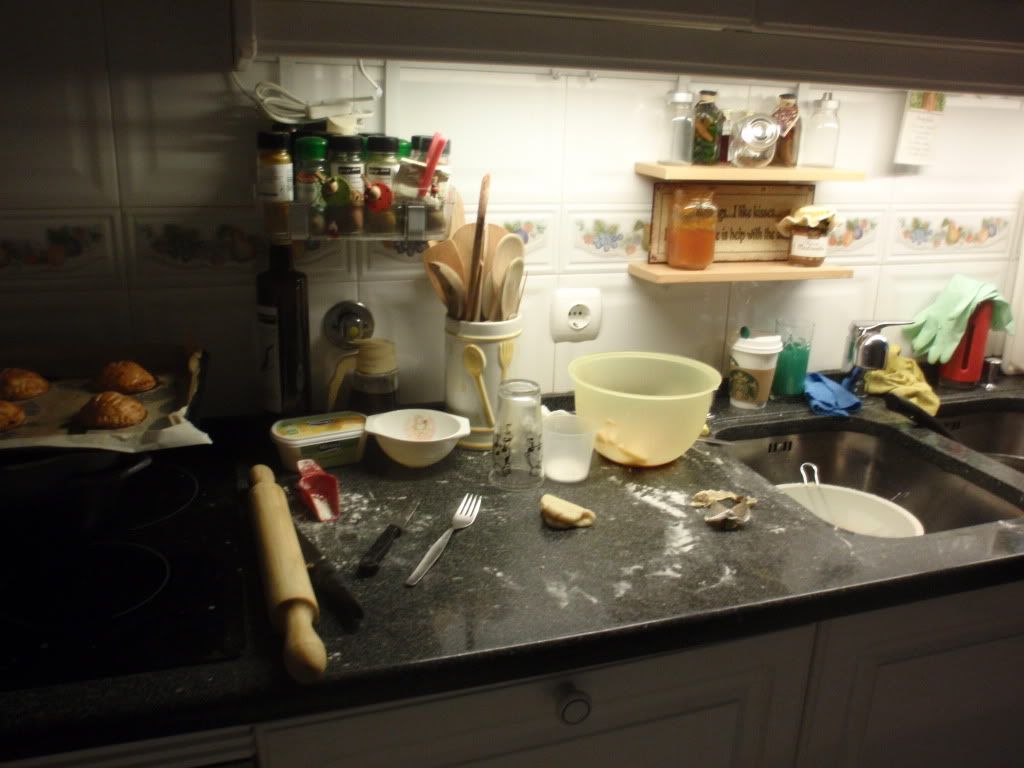 And the kitchen got into this! =/
E a cozinha ficou neste estado! =/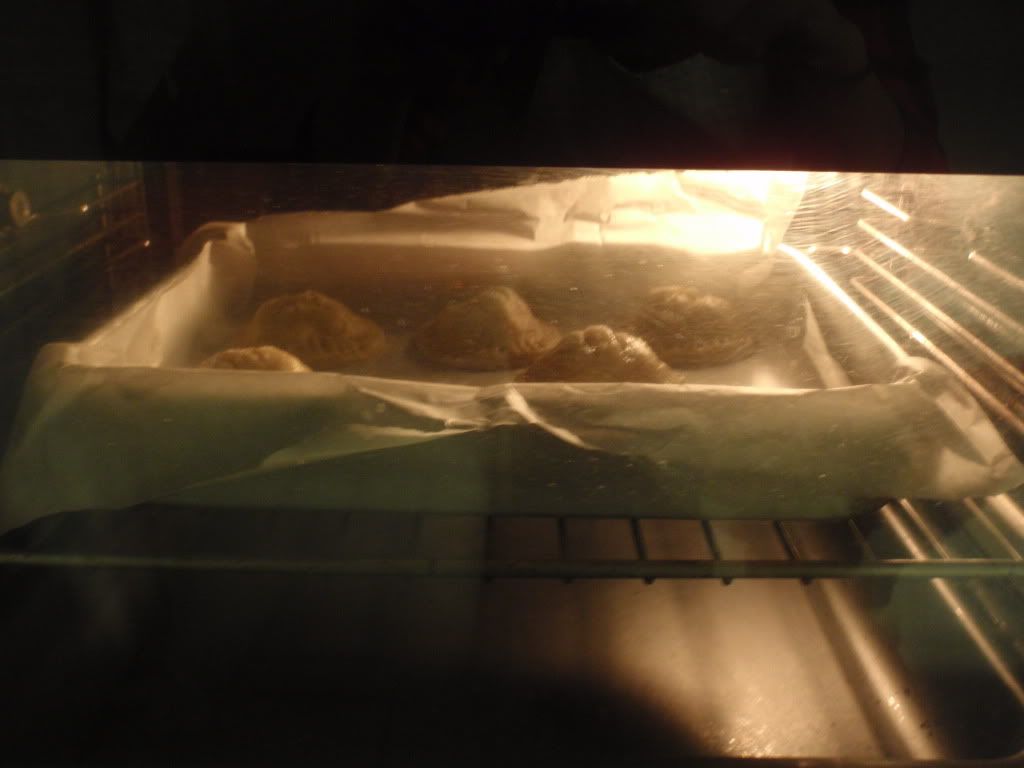 In the oven!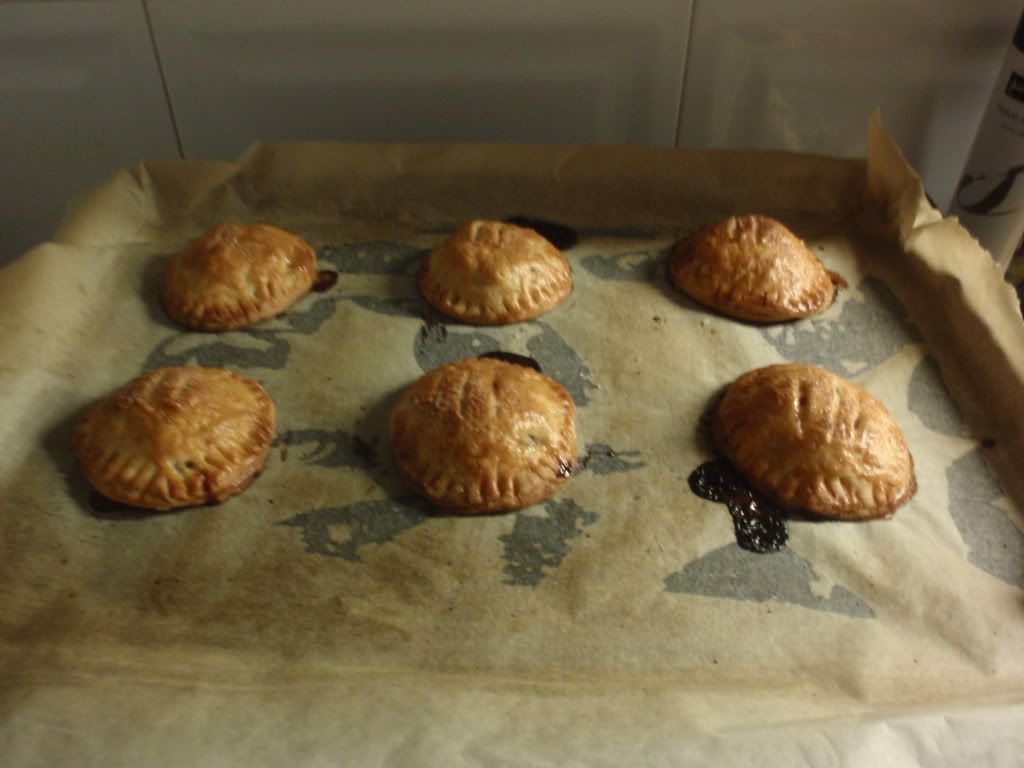 Tchanan!
If you have any question, just let me know by leaving me a comment below.
Caso tenham alguma questão que queiram colocar, deixem um comentário abaixo.
Enjoy this delicious!! My fave mini-pies!
I
(I didn't had much time to take pictures but you can always look at the original recipe)
(Eu não tive muito tempo para tirar fotografias, mas vocês sempre podem espreitar a receita original se tiverem alguma dúvida)