Oh Jezzz! A few days ago New York City got full of angels for the most sexy and glamourous night of the year, the 2013 Victoria's Secret Fashion Show. One of the most exciting moments for fashion and this year we had a new angel walking the runway, our portuguese model Sara Sampaio - so proud of her and her job! Congratulations girl, you really rocked!
I know I'm a little bit late with the pictures but I wanted to do the best cover for you!! =)
For one more year the New York Lexington Avenue Armory welcomed the angels and some headline performes which featured Taylor Swift, Fall Out Boys, A Great Big World and Neon Jungle to performe some of their hits!
With all eyes in New York for an entire day, this year the segments of the show were Snow Angels, British Invasion, Pink, Parisian Nights, Shipwrecked and Birds of Paradise and for what we can see in the pictures there was marching bands, feathers, emojis and a lot more! Such a fun show! They all looked so beautiful - so jealous! - tanned, toned, tall with endless legs, great hairs and curls, jewerly and of course, amazing lingerie and wings. Who would say some of them, Adriana, Alessandra, Lily, Doutzen and Lais are moms already! This year Candice Swanepoel have modeled the Royal Fantasy Bra valued in 10 million dollars, can you imagine? So beautiful!
And my dear followers I have a surprise for you at the end... Take a look!
Look at all of the happiness and fun these girls are having! I know I said this once but they're having the time of their lives!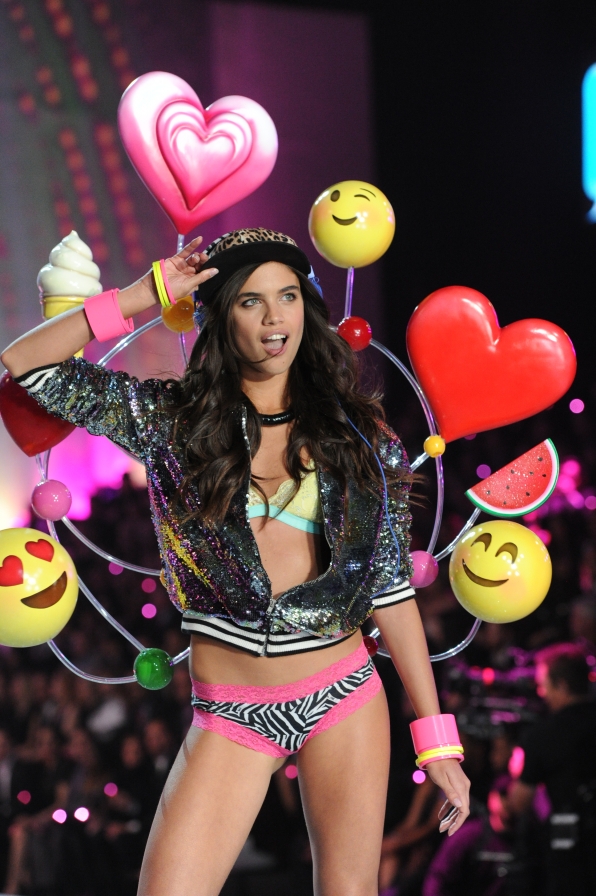 Our sweet Sara Sampaio
The $10 million dollar Royal Fantasy bra with Miss Candice Swanepoel:
Don't forget to watch on December 10! Stay tuned cause I will! I can't wait to watch the magical show!!
And of course... as I said at the beginning here it is my surprise for you... a sneak-peek of the show from FashionTV! Enjoy!
THE END!
Love,
I